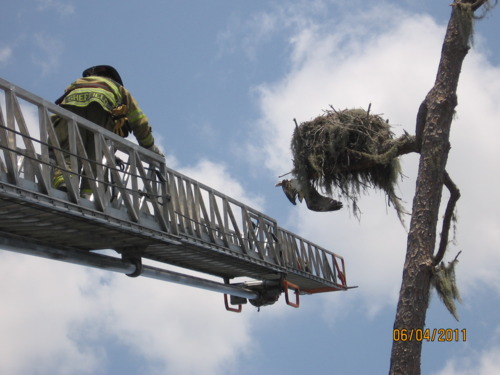 One osprey rescue was nothing short of a miracle!- the adult bird was dangling from the nest with some type of synthetic "twine" caught in the talon- it was similar to monofilament but not monofilament line. The nest was too high for Woodland Wonders to reach and then the miracle workers arrived- the Fire Dept!!! After instruction on how to handle the bird (they were a little hesitant to be that close to the bird and I was scared of the ladder! – thank goodness rules were such I was not allowed on the ladder!) they used their 102 foot ladder and a fireman went up and rescued the bird! Another adult was observed dropping fish into the nest and after several days in rehab and an exam, the dangling bird was successfully released! THANK YOU Winter Have Fire Department!
On the songbirds: Many have been already released, still have youngsters coming in and frequent feedings!
On the mammals: All of the little ones are growing and doing well!
In the Jan-Feb. update, Woodland Wonders mentioned a baby otter- she came to us with eyes closed and opened them 12 days after admission- a very young otter- well she grew and grew and it was time for her to graduate into bigger water facilities and with other otters- With my heart joyous that she had a place to go and my heart BREAKING, she was taken to a wildlife sanctuary downstate. It is the belief of vets and otter experts that an otter acquired so young does not do well in the wild. Molly captured my heart and will be forever in my heart and memory.
** Readers, this is middle of June and chimney swift season- these little birds are mosquito eaters and nest in the chimney- the mother eats mosquitoes, regurgitates and then puts a dab of pine sap on and feeds the little ones! As you can see, they are very difficult to rehab due to dietary requirements! If a nest or a baby falls into your fireplace, try:
Putting back up in the chimney ledge or nest
Closing off the room with the fireplace to people and pets and often mommy will fly down and feed- remember they are mosquito eaters so help out the nursery stage!!!
At this time, I want to THANK all of the volunteers who faithfully help Woodland Wonders with errand running, rescues, cleaning, vacation babysitting, etc. You know who you are and you are PRICELESS! If any of you readers want to be trained to do such, please contact us. I want to THANK all of the donors who help support the mission with time, supplies or $$.
Special THANKS goes to Boy Scout Troop 113 for an Eagle Project, Cauldwell Elementary School for a service project and advance thank you to the Campfire for a service project scheduled in August. It is so beautiful to be blessed by such wonderful and talented young people from these groups represented!